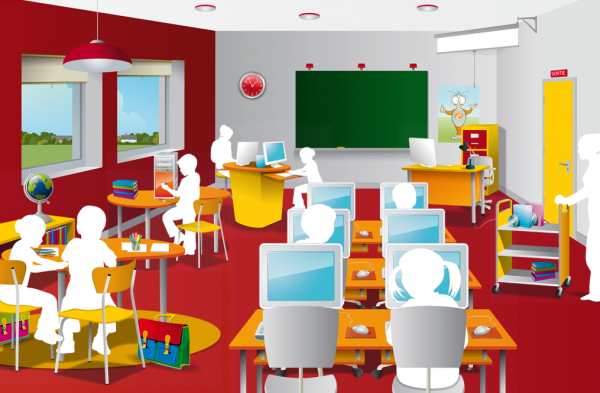 vietec understands that today's schools need to use a range of devices to give students the ability and know-how of using an array of technology platforms to prepare them for their future. This puts a strain on teaching and learning.
Matching your ICT infrastructure with the specific requirements of your school is of paramount importance to meet these challenges.

vietec work alongside you, understanding your long and short-term objectives in order to form a solution in the most cost-efficient way.
vietec's project managers will perform a site survey, to outline all the requirements of the project and to provide the information needed for bespoke project design. vietec believe technology should be an asset and therefore take the design seriously, matching products to needs and budget.
We have experience in implementing networking infrastructure to schools across the UK, regardless of the technologies already in place, our solutions are configured with education in mind.
This commitment extends to providing quality products whilst remaining vendor agnostic. This direction affords us the added benefit of choosing "best of breed" technologies and solutions to suit our clients' individual requirements.
From here a full site plan is developed and quote offered with an expected time scale to complete the project.
Once a quote is signed off, an operations manual detailing the project in full is included. vietec use IAudit, which gives real-time detail about surveys, product detail, and real-time sign-off. This can also be tailored to each survey on a bespoke basis.
We complete full testing and provide documentation on the functionality of software, fluke test each cable of the infrastructure which is backed with certification.
The vietec difference

vietec has been awarded accreditation from Alcumus SafeContractor for achieving excellence in health and safety in the workplace.
But it doesn't end there, vietec also holds the nebosh accreditation, this qualification has been designed to meet health, safety and environmental management needs of all places of work and means vietec can be self-managed on site. Other vietec accreditations include IOSH, PASMA, and IPAF, see more on vietec accreditations here.
vietec's ethos is built around how safely we can deliver and install solutions; therefore, we continually develop and train employees to uphold these high standards.
Through CITB/JIB, employees are CSCS/ECS certified. This means our employees have proof that they have participated in the required training and qualifications for the type of work they carry out. In addition, it is the leading skills certification scheme within the UK construction industry. As well as CSCS, many of our employees carry the SSSTS qualification. This is where site Supervisors are introduced to their legal responsibilities about safety, health, welfare, and environmental issues.
vietec employees, engineer Sean, Operations Director Stephen and Project Manager Simon hold the CNCI qualification and demonstrate best-practice on site.
The CNCI program is designed for those wishing to demonstrate the highest levels of knowledge, skills, and expertise in network cabling infrastructures.

Park Vale Academy, Testimonial
'vietec provided a very professional service from day one of the project. Planning, implementing and testing all completed on time and to a very high standard. As an IT manager with a responsibility to maintain services to users throughout the project, vietec worked with me to ensure minimum disruption across two legacy network moves prior to completing the move to the new network. A network that supports IP telephony, wired and wireless PCs, laptops and printers, and CCTV traffic across three buildings, all installed and tested to perfection.
vietec staff provided the professionalism expected of a company on a customer's site, very helpful, always willing to work flexibly and providing the customer with confidence in everything that was completed. It's been a wonderful experience which has provided everything required without issues and I'm now planning for future projects with vietec as the suppliers.'

Brian Bannard, IT Manager, Park Vale Academy
See Park vale case study here