Wi-fi 6 is expected to improve the experience and productivity of almost all organisations.
For small businesses, the advantages Wi-Fi 6 brings over its 802.11 predecessors promises to make processing large amounts of data, rich media, and an enormous amount of analytics more affordable and seamless. Mobile devices and cloud-based applications such as Microsoft Office 365 are changing the way you engage with customers, suppliers, and staff. Your employees and customers are relying on the network for almost everything they do. But a key challenge for smaller businesses is that, unlike large enterprises, they often lack the IT expertise and staffing to support the deployment of emerging technologies. 
Aruba introduces a new Wi-Fi 6 (802.11 ax) Access Point (AP) designed specifically with the needs of smaller organisations in mind.
The new Wi-Fi CERTIFIED 6TM
Aruba Instant On
AP22 access point delivers the blazing fast Wi-Fi speeds, reduced latency and advanced security capabilities characteristic of Wi-Fi 6, all with the reliability and ease of deployment and management that organisations have come to expect from Aruba. With the new Instant On AP22 access points, smaller businesses and organisations now have access to simple, secure and smart connectivity solutions that enable SMBs to support enhanced user experiences, that are easy to deploy and manage – with a quality look and feel at an attractive price.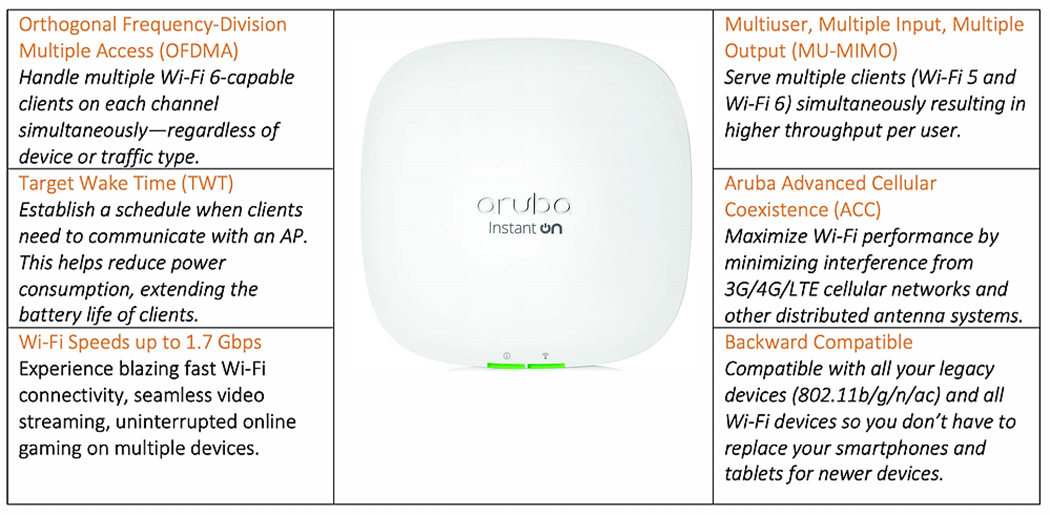 The access point is not the only thing you will need to think about when deploying Wi-Fi 6. The infrastructure requires minimum CAT6 cabling to attain the required bandwidths and the switching will also require minimum 1 gigabit ports that deliver higher levels of PoE than previous Wi-Fi generations.
With more than 20 years experience designing and installing wireless technologies, our skilled team can help guide you through the requirements to be Wi-Fi 6 ready. vietec has expertise from survey, design, and installation of wireless from the original frequency hopping technologies to the current Wi-Fi 6 products delivering speeds up to 5Gbps.
HEALTH AND SAFETY
vietec has achieved Safe Contractor status for the 8th consecutive year in 2020 and has met all COVID-19 requirements.
vietec also holds the NEBOSH accreditation; this qualification has been designed to meet health, safety, and environmental management needs of all places of work and means vietec can be self-managed on site. vietec's engineering employees are DBS registered.

PREPARE FOR THE NEEDS OF TOMORROW'S NETWORK TODAY.
Talk with our experts about the needs of your network and how vietec can help achieve your business goals.
Prepare for Wi-Fi 6 by calling 01527 591073 or email sales@vietec.co.uk