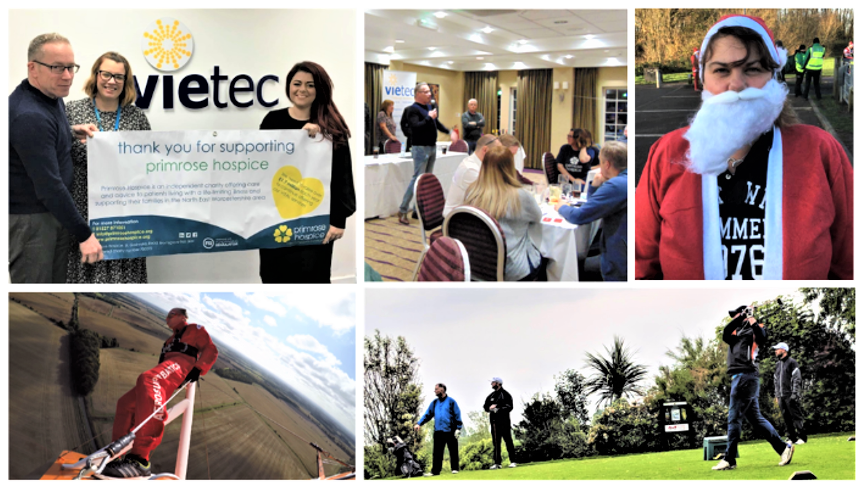 WING WALKING, golf and a test of knowledge helped the team at Redditch based ICT specialist vietec raise over £10,000 for The Primrose Hospice.
The dedicated staff at the vietec HQ, in Clive Road, put in a huge effort to achieve their target total after choosing Primrose Hospice as its charity of the year 2019. vietec achieved this by completing several charity events including the first quiz night which gave 112 people the chance to test their general knowledge.
Getting into the 'swing' of fundraising, they raised money during the annual golf day in June and vietec's Director Phil Drew took part in the thrill of a wing walk ride in September.
Throughout the year, there was also a candle party, marketing coordinator Danielle Connelly attended the hospice's Business Lunch and Sara Stanley, internal sales, donned a Santa suit for the 5k Santa Fun Run.
Business development manager Steve Mundell gained extra sponsorship taking part in Movember.
vietec Director, Phil Drew said "I would like to thank all of our partners, suppliers and customers for supporting vietec's fundraising endeavours over the past year and for helping us to achieve our target.
I am thrilled vietec could hand over £10,000 to Primrose Hospice which will help them to continue the valuable services they provide in the local community.  A huge thank you goes out to the vietec team for making such a big effort to get involved and support Primrose, it has certainly generated a great team spirit amongst our staff. vietec are now looking at more fundraising events for 2020."
Sarah Harris, Primrose Hospice fundraiser, said: "It took an incredible effort for the team at vietec to raise £10,000 for Primrose Hospice. We are incredibly grateful that they chose us as their charity of the year and worked so hard to reach their target.
They've made a big difference to people living in our community who have a life-limiting illness or have experienced a bereavement."
Primrose Hospice supports over 1,000 people living in north east Worcestershire who have a life-limiting condition, their families as well as bereaved adults and children.
While its services are free to residents, it does cost £1.75million to run the hospice of which just under £1.5million must be raised by the community, events and grants.
Thank you to all those who supported us!