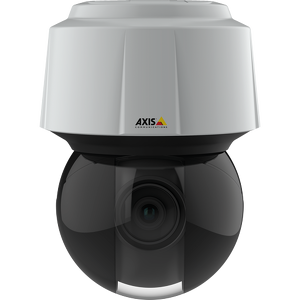 Technology is forever evolving and security is currently at the forefront of most companies minds. CCTV cameras have developed in leaps and bounds in recent years, with the introduction of cloud technology allowing users larger and more user-friendly storage. Axis Communications have developed a range of CCTV cameras which take surveillance to the next level.
Sharpdome technologies innovative mechanisms allow the entire unit dome to rotate, whereas normal cameras only rotate within the dome itself.  Speed Dry, a product of Axis Communications, is built in along side Sharpdome and provides users with a sharp and clear image which works by vibrating the unit at a high speed, encouraging excess water to run off the dome. Clearing the dome of excess water allows for more accurate surveillance, which ultimately makes the environment safer.
To assist the user, the cameras offer Advanced Gatekeeper, a feature that allows the user to choose to pan, tilt and zoom when movement is detected. The camera can then be used to track specific movements, meaning surveillance can be predetermined.These systems also work in extreme and challenging environments. Being able to reach temperatures as low as -50*C, means that these systems can work in some of the worlds harshest environments.
The cameras are compact, meaning that they can blend in seamlessly to any necessary environment and the functionality to be able to see upwards as well as downwards gives the camera wider range.
Having a wider range means that there is potential for less cameras to be required, thus saving money in the long run.We'd be more than happy to discuss your surveillance system requirements with you, and our latest case study shows Axis cameras being installed at David Nieper Academy.