The retail market has started to appreciate the value that network audio systems can bring to a company, without impacting on their bottom line. The potential for music and audio in enhancing the retail customer experience and driving sales is still largely untapped. Axis have recently partnered with four music service providers to enable a complete solution for retailers who wish to not only have ease of use when managing all aspects of their in-store audio but also improve customer experience and security.
3 key areas for retailers with Audio Network Solutions
Improved Customer Experience
By having a network audio solution that is connected to the internet, the choice of background music is vastly improved, tracks can be rolled out across different areas in one or more stores, or different songs can be played in various locations.
Retailers can further target customers with announcements highlighting new products or offers, further increasing sales.
Smart Zoning
Zoning allow users to target announcements to specific audiences in the relevant areas of a site, without repeating the message across the entire network of speakers.

The advantage of smart zoning is the flexibility it offers to the user. Zones can be easily reconfigured in an instant, without the need for new cabling. This is particularly useful if a situation arises where the predefined zones need to be changed, or the business being restructured.
Improved Security
Using remote audio alongside remote video monitoring allows users to speak to those caught on camera.
In the example of perimeter protection, a security officer could use the audio system to speak directly to a potential intruder, informing them that they are being filmed and police are on the way. Knowing they are being filmed is a very big deterrent for criminals and they are likely to abandon their illicit activity before they commit a crime.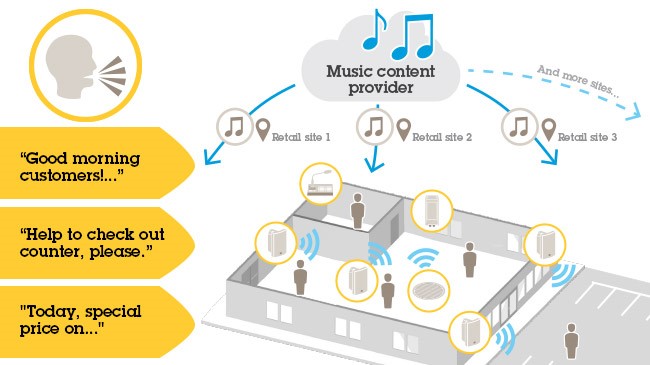 AXIS Audio Player or AXIS Audio Manager?
AXIS Audio Player is an audio application for playing background music and announcements in stores. It comes pre-inaxis-audio-retail-software-managementstalled on Axis network speakers and has everything you need to schedule playlists with music and announcements in a single zone.
Whilst AXIS Audio Manager can also be used to play background music and announcements it is typically aimed at those customers who want more advanced features such as multiple zones (up to 1000), announcement scheduling more than one week in advance and up to 9 levels of priority listings.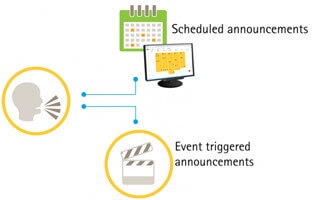 vietec are awarded gold partner status with Axis and can offer complete retail solutions to enhance the customer experience and security of a store or business offering opportunities to increase in-store sales through analytics and audio when combined with IP SECURITY.

Background music for businesses
Axis have recently announced partnerships with the following providers of customisation background music,
• Soundtrack Your Brand
• Royal Streaming
• MUSIC2BIZ
• Pinesker Media Company
These music services for business can be fully integrated with existing Axis network speaker systems without any additional hardware or software, allowing for the seamless integration of scheduled and ad-hoc announcements with tailored music.

vietec understands that today's retail stores need to enable a wide range of devices to give customers the best interaction with each of the brands touch points and provide an enjoyable and easy shopping experience  increase sales and customer retention.
Matching your ICT infrastructure with the specific requirements of your business is of paramount importance to meet these challenges.

vietec work alongside you, understanding your long and short-term objectives in order to form a solution in the most cost-efficient way.
Contact vietec for an initial conversation about your businesses objectives.