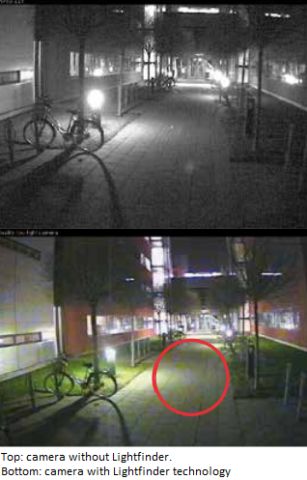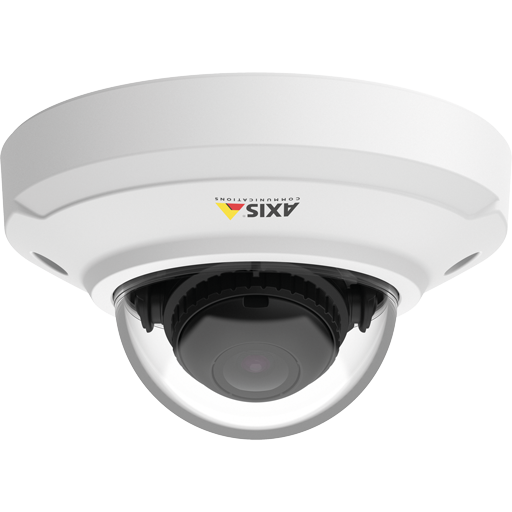 Lightfinder technology combines Axis Communications skills in image processing, in-house-system-on-chip development and selection of the best optical components. Essentially, it has been designed to enable you to maintain colours in very dark conditions meaning it benefits organisations that require a high level of video surveillance, 24 hours a day.
Even in situations in as little light as 0.18 lux or lower, Lightfinder technology can still deliver colour images.  It is a result of a meticulous choice of the right sensor and lens, the blend of these factors provides network cameras with this out-standing performance thanks to the technology behind it. Axis Communications have incorporated a CMOS sensor with exceptional light sensitivity, however the technology is a lot more than just the sensor. For many years, Axis Communications have proven their standards of image processing, this is already used in all their network video products, the elaborate software sets the level of filtering and sharpening to enable the best quality image there is. There are many benefits of this technology, with the most prominent  being excellent image quality, with small amounts of noise and also a better colour reproduction in low light. Lightfinder is therefore the ideal solution for both indoor and outdoor surveillance in low light conditions.
Lightfinder can benefit all industries from finance to education, by reducing external factors which could impact on security, such as brightness and time of day. Educational establishments require high levels of surveillance, for both pupil and staff safety. Installing Lightfinder in to the security system would mean that throughout the night, and darker evenings, the establishment would have continuous security that can be monitored or referred to.  In addition to a security benefit, not having to keep lights on throughout the night to monitor the property will save money on electricity bills. Kim Melander, Rock Hill Schools*, discussed that the saving across their High Schools could be in the region of £7,186 – £7,984 per year (converted from US dollars), since they introduced Lightfinder to their system.
vietec offer a range of surveillance solutions tailored to your specific needs and we recently installed Axis cameras at PPG's Stowmarket site, which incorporated the Lightfinder function. We can also integrate the above technology in to your existing Axis Communications cameras, or alternately we can install new cameras to suit your business. Here at vietec, we take pride in all projects we complete and we can guarantee that you will be in safe hands from start to finish. If you are interested in discussing Lightfinder or any of our other services, please do not hesitate to contact us.
References;
* https://www.youtube.com/watch?v=_znKK-SMqygEmbedded video: https://www.youtube.com/watch?v=jbB6jDcyBLg