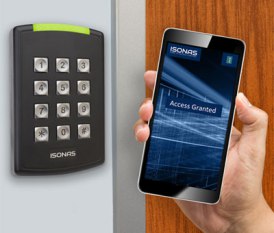 ISONAS specialise in Pure IP Access Control door entry solutions. ISONAS offer network-based PowerNet reader-controllers, which offer a patented technology that can effortlessly integrate with Windows-based software. ISONAS provide a solution that is proven to revolutionise the industry, making door entry safer and more secure.
Pure Mobile Access Control is the newest instalment of access control by ISONAS. The new technology has traded in a physical card for your mobile phone device. The innovative technology is versatile and can benefit everybody within the business as it is available on IOS and Android devices. As a back-up, or for those without a smart phone there is still the option for pin number and fob entry – meaning that the employer can offer variations if required.
It is easy for us to integrate this technology into your system, by simply accessing your current network and cabling .Once the hardware and software are installed on the system, we will need to follow a short process to obtain all employees access to the building. The process begins by downloading the ISONAS app on to each individuals smart phone, followed by enrolling each employee on to the system – through the PC. This enrolment process is quick, and is also something we can assist with if required. Once all employees are enrolled, the main user will be able to track who is inside the building, what time they entered and also have the ability to monitor other occurrences such as the number of breaks taken.
If you're interested in discussing the product, we'd welcome a conversation and demonstration at our Redditch engineering suite – where the product is used by ourselves for our own door entry. You can find out more information about IP Security here.