Invest in the Customer experience with CCTV 
With the growing number of communication channels available, Retail organisations are increasingly turning to technology to improve the customer experience across a brands touch points. Understanding the customer's needs is a common challenge for many businesses and studies show that this will become the make-or-break benchmark for winning and retaining customers in the future.
67% of consumers and 74% of business buyers say they'll pay more for a great experience. Salesforce
More than 80% of companies who prioritise customer experience are reporting an increase in revenue (Dimension Data).
This doesn't leave much room for your retail marketing and customer service strategy to fail. Businesses must work smarter with the technology available to them.
If you're looking for new ways to increase your company's profit margins, invest in bettering the customer experience and Store Optimisation.
"I already do Customer Service isn't this the same thing as Customer Experience?"
The terms "customer service" and "customer experience" are often confused, they are in fact connected but not the same thing.
The difference is that customer service is only one part of the overall customer experience. Customer service is reactive to a customer's needs, for example, the human interaction once a customer is already using your services. Customer experience is being proactive and is the sum of the entire customer journey within your business, this includes hard to measure KPI'S such as the way a customer feels about your business from brand awareness to post-purchase analysis.
Customer Experience Definition – The product of an interaction between an organisation and the customer over the duration of their relationship with the brand. If you want customers to stay loyal you must invest in their experience.
  
CCTV is no longer just about security, with the advancements in IP Security, CCTV can now become a staple part of a retail stores marketing and sales strategy. Delivering campaigns and measuring objectives.
The latest development in CCTV for retailers is that they can now use CCTV security cameras as a platform to track and analyse customer movement and interaction through insightful visual maps, charts, and graphs. What this means is that retailers can now better understand customer behaviour so that any alternations, for instance, to store layout, signage or staffing levels, can affect footfall and sales conversion rates. Using heat tracking to map out areas within a store that get more footfall, collect data on the number of people at the location at any given time. The information can be used to facilitate A or B testing of promotions.
How many people visit your store every day and how many make a purchase?
People Counter collects information about store traffic to help you gain insights into customer behaviour, it automatically counts in real time the number of people passing under a camera and in which direction.
When integrated with a point-of-sale system, it can collect valuable information about conversion rates to provide your store with reliable data to base business decisions on.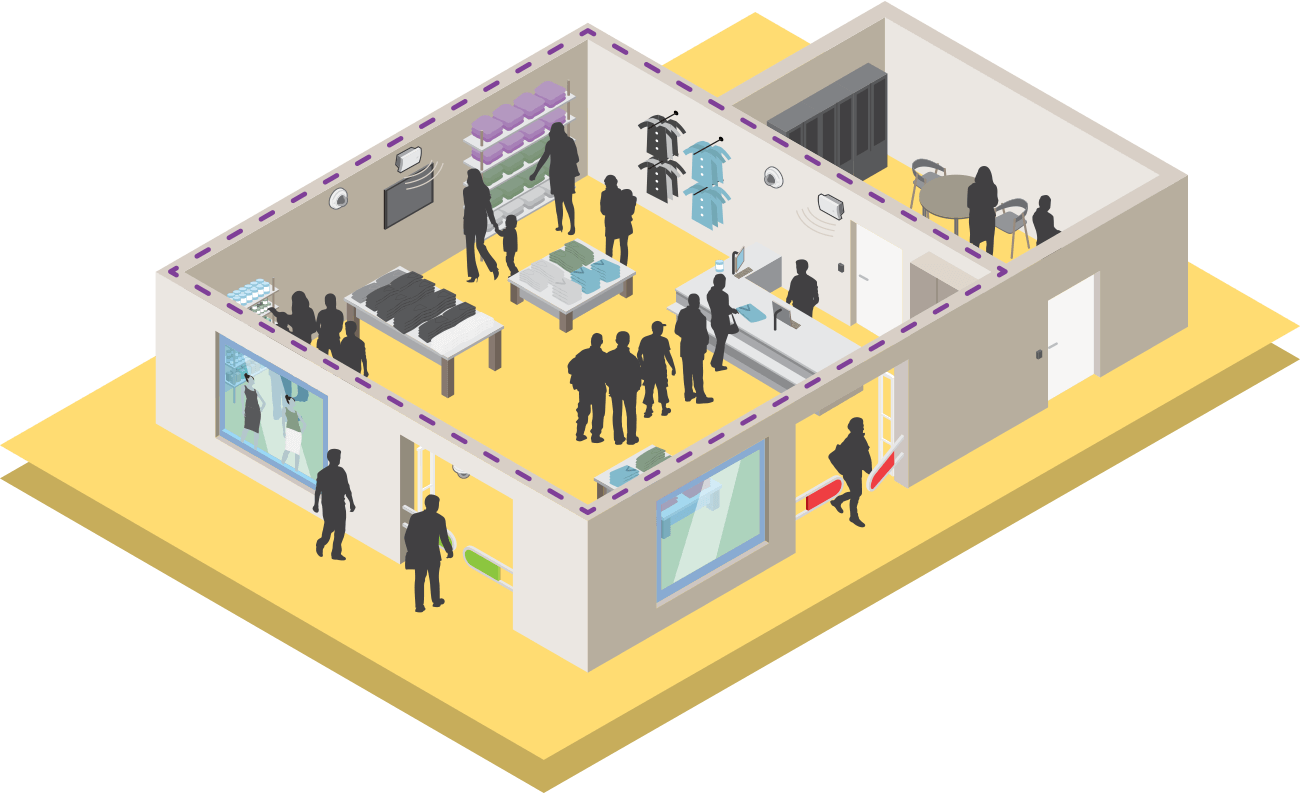 Long queues affect a customer's in-store experience and can hurt sales as frustrated shoppers forgo a purchase or decide not to return. Address this issue by measuring and analysing queues so that you can better match store personnel and improve customer satisfaction. Statistics on average queue lengths can help you determine how many staff members you should have on certain days and at certain times, leading to better planning and more cost-effective staffing. You can also set the queue thresholds to prompt the opening of a new cash register when the number of people in a line-up exceeds the limit.
Network Audio 

But this doesn't end here, with integrated audio networking solutions you can combine analytics and CCTV with the use of Network audio to set the ambience to enhance the customer experience and make real-time and scheduled announcements such as a promotion to different locations across the store.
With management systems giving you full control over your data, enabling grouping, filtering, comparisons, and drill-down. You can select the KPIs and charts of your choice. Pre-defined analytic reports, for instance, reports can include a presentation of statistics in relation to daily weather conditions, enabling you to see if the weather had any impact on product sales or footfall.
Engage with your customers, make them feel welcome and appreciated in an atmosphere that builds loyalty to your brand. With small steps, you can take customer relationships to the next level!