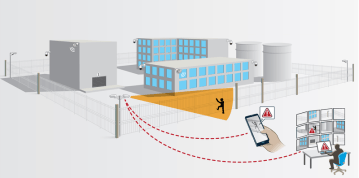 IP Security is beginning to become more popular within the working environment. It ensures you are providing the best work space for your employees and gives them piece of mind in all given situations. Axis Perimeter Defender is a video analytics application, its main use is for perimeter surveillance and protection. It reinforces physical access control, which is perfect for high-security sites such as prisons, and power plants.
Axis Perimeter Defender benefits from high detection accuracy, meaning that the system can be relied upon during many different scenarios. The system is set up in a simplistic manner, which allows for easy installation and use.
The detection capabilities include loitering and several types of intrusion. For example, if a car was parked outside in an off-limits area it will notify the staff in charge to determine the outcome, by the nature of the threat. There are several options that can follow this, in the video below the staff member chose to shine a light on the car that was loitering, highlighting the area outside. Axis Communications call this the 'Detect, verify, act' process. This is a process that any business could implement.
Another advantage is that a user can integrate Axis Perimeter Defender into as many cameras as desired. Along with this, there is no need for system redesign or expensive hardware replacements each time a camera is added to the network. When everything is in place, the system can be controlled from a single interface and location, which allows off site security presence. In addition to this, support and upgrades are included in the licence.
vietec can assist with camera installation, as well as additional software needs. We have worked on numerous security over IP installations, including a site which required 40 cameras you can read the case study here.